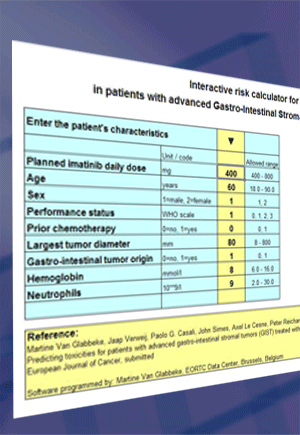 The provided software implements the risk models published in the paper:
Martine Van Glabbeke, Jaap Verweij, Paolo G. Casali, John Simes, Axel Le Cesne, Peter Reichard, Rolf Issels, Ian R. Judson, Allan T. van Oosterom, Jean-Yves Blay. Predicting toxicities for patients with advanced gastro-intestinal stromal tumors (GIST) treated with imatinib: a study of the European Organisation for Research and Treatment of Cancer, the Italian Sacoma Group and the Australian Gastro-Intestinal Trials Group.
European Journal of Cancer 42 (2006) 2277-2285
It allows the user to estimate the probability of experiencing
edema (CTC grade 2+),
lethargy (CTC grade 2+),
skin rash (CTC grade 2+),
nausea (CTC grade 2+),
diarrhea (CTC grade 2+),
anemia(CTC grade 3+)
neutropenia (CTC grade 3+)
for individual GIST patients treated with imatinib mesylate,
at doses ranging from 400 mg/day to 800 mg/day.
Estimations are based on the intended daily dose and 8 factors:
Age
Sex
Performance status at treatment start
Prior chemotherapy (N/Y)
Largest diameter of the largest lesion
Identified gastro-intestinal origin of the tumor (N/Y)
Hemoglobin level at treatment start
Neutrophil count at treatment start
Version available as Excel spread sheet
Compact version available for handheld computers
Software programmed by Martine Van Glabbeke,
EORTC Data Center.